Organization management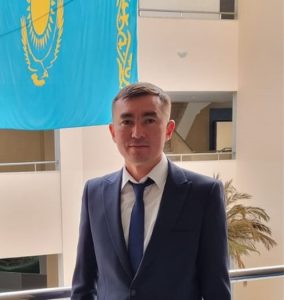 Chief Executive Officer – Zakir Yershebulov
Education
In 2005 he graduated from the Kyrgyz Agrarian University, in 2015 – Master's degree (biology) KSU named after I.Arabayev, in 2022 defended his dissertation for the degree of Candidate of Biological Sciences.
In 2006-2010 – post-graduate studies at the Research Institute of Biological Safety Problems (RIBSP) on theme "Monitoring and study of immunobiological properties of the goat pox virus"
Work experience
2006-2007 – Senior Laboratory Assistant at RIBSP;
2007-2010 – Junior Researcher at RIBSP;
2010-2015 – Research Associate at RIBSP;
2015-2019 – Head of the Quality Assurance Division at RIBSP;
2019-2021 – Head of Quality Department at RIBSP;
since 2021 – Director of OtarBioPharm LLP.

Participation in scientific projects
From 2006 to the present, he was a performer, responsible performer and co-manager of scientific and technical programs, projects, including international ones, for the study, monitoring and development of preventive measures against various human and animal diseases.
Internships and professional development
2007 – "Mastering methods of isolation, cultivation, purification and laboratory diagnostics of sheep catarrhal fever virus", Research Institute of Veterinary Virology and Microbiology, Pokrov, RF.
2008 – "Issues of development and improvement of the technical regulation system and management system in Kazakhstan", Kazakh Institute of Standardization and Certification, Almaty, RK.
2008 – "Integration and Innovation-2008", International Summer School of Young Scientists of the CIS, Novosibirsk, Russia.
2008 – "Study of parameters and development of methods of cultivation of influenza A/H5N1 virus", State Research Institute of Influenza of the Russian Academy of Medical Sciences, St. Petersburg, RF.
2012 – "International training on the production of influenza culture vaccines", University of Utah, Logan, USA.
2015 – "Quality assurance of Medicines 2015", 6th Pharmaceutical Quality Week, Tbilisi, Georgia.
2017 – "Quality assurance of medicines", 8th Pharmaceutical Quality Week, Batumi, Georgia.
Results of scientific and industrial activity
Author of more than 76 scientific papers published in foreign, republican journals and collections of international conferences
Co-author of 4 sets of STDs for vaccine preparations.
He has 20 copyright certificates for inventions and 6 laboratory regulations for the cultivation of viruses.
Deputy Chief Executive Officer for General Affairs –Anuar Satybaldiyev, Automation and Management, 20 years of experience
HR Manager – Azamat Kaltayev, linguist, 12 years of experience
Chief Technologist –Sabit Tazhiken, Manufacturing engineer, Biology, 20 years of experience in production
Chief Accountant – Zhanar Mashkalova, Finance and loans, 16 years experience
Head of the Production unit – Dastan Kaysenov, Master of Biology, 14 years of experience
Head of the Quality Assurance Department –Gauhar Tokkarina, expert engineer of standardization and certification of agricultural products, 14 years of experience
Chief Engineer –Serik Zeynoldin, electrical engineer, more than 30 years of experience